ABOUT SWC
PROGRAMS
Volunteer Trip 2008-
Where We've Worked-




SWC's COMMUNITIES PLAY PROGRAM

Communities Play is SWC's sports equipment collection, distribution and supply program. The Communities Play program is two-fold:

1) SWC solicits and accepts charitable contributions of most used and new sports equipment.

Why used equipment instead of purchasing new equipment? Each year many organizations and schools receive money budgeted for sports programs, whether the funds are raised or allocated by the government. Oftentimes equipment and uniforms from previous years sit in a back room or closet/garage somewhere, still completely functional but unused. SWC finds an appreciative home for equipment such as this in many communities, schools, and organizations who works to find a use for that equipment. The amount of money we spend on collecting, storing, transporting, and distributing the used equipment is far less than what we would have to spend to purchase the same equipment. SWC spends about $50 for every $100 worth of used equipment that funnels through our organization. Further, that $100 worth of used equipment would cost over $200 if purchased new since the value of used equipment is greatly decreased. SWC?s funds (when available) are also spent on purchasing new equipment when requested equipment is not in stock and/or the Board has approved its purchase for a certain community, organization, or school.

2) SWC distributes the collected equipment to communities and schools in need. (Click here for more information on most recent equipment distribution/volunteer trip.)

SWC has found plenty of children, organizations, and schools that can use the equipment collected. There are those schools whose budgets have been cut and equipment can no longer be afforded, and schools that have no budget at all for equipment or programs. (Sports programs are oftentimes one of the first programs to suffer when school budgets get tight.) This is especially true in many communities in Mexico, where the government is still trying to supply communities with electricity, paved roads, and running water.

Through a simple application process, communities, organizations, and schools are able to request needed equipment. It is not required that applicants be governmental or recognized entities, incorporated, or nonprofit organizations. Needs assessment and research is also conducted in low-income areas to identify communities, organizations, and schools in need so that equipment can be provided.

SWC's Board of Directors reviews applications on an ongoing basis. Applicants are awarded their requests as received, depending on the availability of requested equipment and the availability of funds for distribution/transportation, after approval by the Board.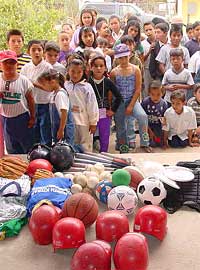 Sports equipment presentation in Agua Escondida, Baja California Sur, Mexico, a colony with no running water.